About Boulder
Boulder Colorado is located about 35 miles northwest of Denver at the foothills of the Rocky Mountains. Recreation in Boulder is one of the most popular things the city has to offer. You will find plenty of trails, recreation facilities & outdoor recreation activities in Boulder. The city is also known for diverse restaurants and retail shopping. Although many people don't think the nightlife in Boulder competes with what Denver has, you will still find plenty of bars & night clubs for late night entertainment. Boulder is home to the University of Colorado's main campus which is responsible for younger popluation to the region.
Boulder News & Articles
Events in Boulder
barre3 x prAna
on Tuesday, 23 Apr, 7:30 PM
at prAna Boulder
Join barre3 Boulder for a free 60-minute class at prAna! Details: -Tuesday, April 23rd, 2019 from 5:30pm to 6:30pm -Class starts at 5:30pm; arrive a few minutes early to get signed in  -Bring a yoga mat and water bottle -All are welcome, no experience is required. About
Kirtan & Raga Concert with Sheela Bringi
on Thursday, 25 Apr, 9:00 PM
at Naropa University Performing Arts Center
Experience the Indian musical traditions of Kirtan and Raga in one ecstatic evening. A celebration of life, community, and the Divine, through call-and-response singing and contemplative raga meditations. Be uplifted and inspired, centered and soothed... Sheela Bringi s
Jazz at The Wesley Presents: Robert Johnson and Linda Styles!
on Saturday, 27 Apr, 7:00 PM
at Wesley Foundation Untd Methodist
DOORS OPEN AT 7PM AND MUSIC STARTS AT 7:30PM Jazz at the Wesley, Sponsored by ALOC Media and The Boulder County Arts Alliance and supported by KGNU, proudly presents:
Tune 'n Bloom
on Saturday, 27 Apr, 7:00 PM
at The Boulder Circus Center
Through the gateway of the body we will dive into our inner landscape and listen in.
Purrfect Poses & Meow-mosas
on Sunday, 28 Apr, 12:00 PM
at Humane Society of Boulder Valley
Join SPENGA Broomfield and the Humane Society of the Boulder Valley for a special class benefiting our furry friends!
Taste of Pearl
on Sunday, 28 Apr, 4:00 PM
at Pearl Street & Beyond
Taste of Pearl is an unforgettable afternoon exploring Boulder's tantalizing culinary arts scene, celebrating Colorado's distinctive wines and distilleries while strolling through some of Downtown Boulder's most vibrant galleries and retail stores.
CU Spring Concert 2019 w/ Still Woozy & Yeek
on Sunday, 28 Apr, 9:00 PM
at Mary Rippon Outdoor Theatre
CU Program Council presents CU Boulder's 2019 Spring Concert w/ Still Woozy & Yeek. For the first time, this concert will take place in CU's outdoor amphitheater! In the event of inclement weather, the concert will take place in the UMC's Glenn Miller Ballroom. Sunday,
Kids Love Kindness Spring Event
on Tuesday, 30 Apr, 7:00 PM
at Boulder Public Library - Meadows Branch
This spring Kids Love Kindness will be spreading some kindness through There with Care (a group that provides support for families during the critical phase of a medical crisis).
An Evening with R.L. Stine
on Wednesday, 1 May, 8:00 PM
at Boulder Public Library - Canyon Theater
Join the Boulder Bookstore for an evening with R.L. Stine, author of the Goosebumps series, on Wednesday, May 1st at *6:00pm* at the Boulder Public Library's Canyon Theater. About R.L. Stine: R.L. Stine says he gets to scare people all over the world. So far, his books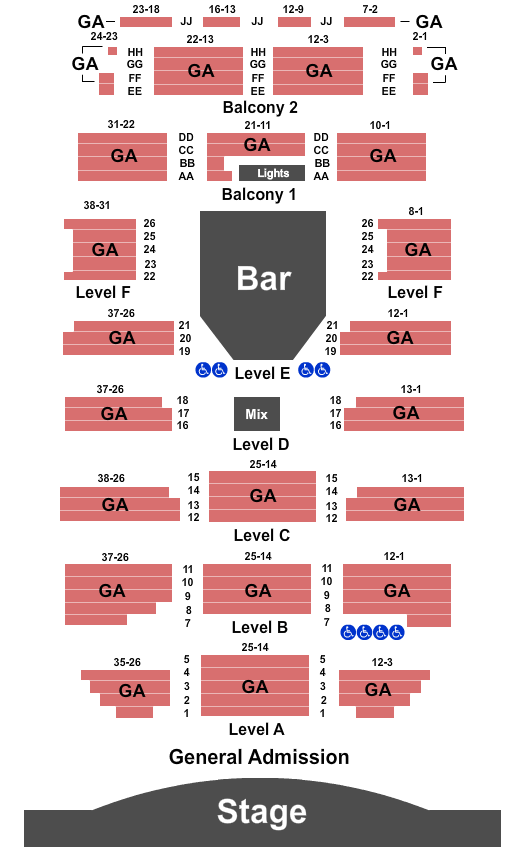 Yacht Rock Revue
on Thursday, 9 May, 8:00 PM
at Boulder Theater
Boulder Updates
21AprEaster Brunch Buffet
Event
Apr 21 at 09:00 AM · 03:00 pm
Hotel Boulderado